XRP Price Analysis: XRP/USD May Break Out at $0.50 Level
Submitted by

Anonymous (not verified)

on Wed, 06/26/2019 - 11:24
Coinspeaker
XRP Price Analysis: XRP/USD May Break Out at $0.50 Level
Key Highlights:
XRP price continue consolidating at $0.46 level;
there may be a breakout at $0.50 supply level;
XRP price may continue its sideways movement provided $0.50 level holds.
XRP/USD Price Medium-term Trend: Bullish
Supply levels: $0.50, $0.54, $0.59
Demand levels: $0.46, $0.42, $0.39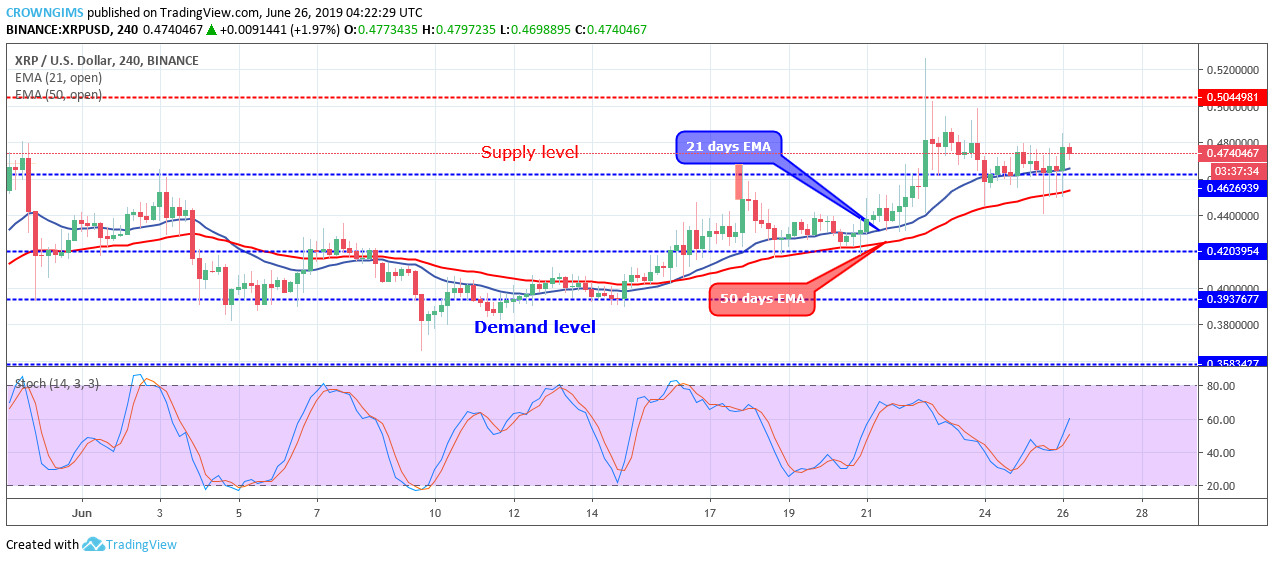 On the medium-term outlook, XRP/USD is bullish. The crypto was ranging at $0.42 demand level a few days ago. Not quite long the Bulls gained momentum coupled with the fundamental events on the cryptocurrency in which XRP is not exempted; there was a spark in XRP price.
XRP price radically increased. It broke up the supply level of $0.50 and the price rallied towards $0.54 supply level. The Bears refused to let go, XRP price was interrupted and brought down below $0.50 level. Since then, it has been a war between the Bulls and the Bears; that is the price started moving sideways within the range of $0.46 and $0.50 price level.
XRP price is trading above the 21 periods EMA and 50 periods EMA at a close range to each other which indicates low bullish and low bearish momentum. However, the Stochastic Oscillator period 14 is at 50 levels with the signal lines pointing up which indicate buy signal. Further increase in the XRP price is highly envisaged should the Bulls gain more pressure and break up the $0.50 level. In case the supply level of $0.50 holds the coin may continue the sideways movement.
XRP/USD Price short-term Trend: Ranging
On the short-term outlook, XRP/USD is consolidating. On the 1-hour chart, the XRP has been consolidating at $0.46 demand level since June 24. The Bulls and the Bears are yet to gain enough momentum to make the crypto rally to the north or to the south respectively.
XRP price continues hovering over the 21 periods EMA and 50 periods EMA and the two EMAs are interlocked to each other which indicate that consolidation is ongoing in the XRP market.
Source:
https://www.coinspeaker.com/xrp-price-analysis-xrp-usd-break-out-0-50/